GOT QUESTIONS ABOUT VAPING?
WE'VE GOT ANSWERS!
If you're new to vaping or just have some questions about vaping in general, we've compiled a list of some of the more common questions we get about vaping.
Vaping means the use of a vaping device (aka e-cigarette/personal vaporizer/mod/APV)! There are numerous such devices available, from the cigalikes to the 3rd generation APVs, but vaping is the term that unites them all.
How do vaping devices work?
All vaping products operate using the same principals. A battery powers a coil which heats a liquid solution known as e-liquid. This produces a vapor which is then inhaled. However, these fundamentals can be applied in a large number of ways, and many products have been developed to meet the demands vapers have from their vape.
Vaping is an alternative to smoking. It provides a vaper with the sensations, rituals and nicotine that smoking provides, but without smoke and the vast number of dangerous chemicals found in smoke. Vapers choose to use the products for a number of reasons; some because they want to save money, some for health reasons, and some for convenience. It is our belief that vapers should, as soon as they are able, transition fully away from smoking into vaping.
Vaping is used as tobacco harm reduction. It has been estimated to be between two and three orders of magnitude safer than smoking, and this is the standard by which it should be judged. It is then, not risk free, but far preferable to smoking.  It is also possible that some forms of vaping are safer than others. Our mission is to provide vapers with the best information available so they can make an informed choice on which products are appropriate for them.
What device do I need to buy?
This is a very tricky question but our advice is that at the minimum you should purchase a brand of product that has been around for awhile and one that has been tested by the vaping community. For example., here at The Vape Loft, we carry quite a few of the "Tried & True" Vape kits and box mods that those who vape have come to trust over the years. We also like to try new products, so we have a good mix of "what's new today" and "old trusties". It really all depends on your vaping needs. At our shop, we won't sell you a product you don't need or aren't looking for. We listen to your needs and set you up with something that just right for you!
The short answer here is no. Sadly, many Cities and Counties have chosen to prohibit vaping in public places, shoehorning vaping into smokefree legislation. Thankfully, vaping is still permitted in public places in the majority of the US, but this is continuously under threat.  Nevertheless, it's wise not to assume that you can vape anywhere just because it's not illegal. Premises owners are entitled to prohibit vaping on their property, and many do.
If you're an adult smoker who does not intend to quit right now, then the answer is yes. Vaping is undoubtedly preferable to smoking tobacco, although vapers should be aware that cutting down on tobacco smoking does not reduce the health risks from smoking to an acceptable level. There is no safe level when it comes to smoking.
Non-smokers should not take up nicotine in any form. The addictive nature of nicotine, as provided by vaping devices, is as yet not fully understood.  It should be assumed though that it does have the potential to cause dependence.
What are PG or VG liquids?
PG (propylene glycol) and VG (vegetable glyerine, or glycerol) are ingredients in e-liquid which create the vapor. Both are widely used in a variety of products for human consumption. PG is associated with a stronger "throat hit" but with less visible vapor, whereas VG has a sweetish taste and produces a much more visible vapor. Some vapers find PG irritates their throat and lungs and choose to use VG based e-liquids instead.  Some e-liquids contain a blend of both ingredients to balance out the characteristics of each.
What e-liquids should I get?
Again, there is no one-size fits all answer here, so the best thing you can do is to try out a few e-liquids and see which one suits you. Interestingly, don't assume that you need an authentic tobacco flavor. There are some good ones out there but we find that the vast majority of vapers end up choosing a flavor other than tobacco and this happens very quickly if they try a few different ones to begin with. In terms of PG/VG, you'll have to try for yourself and decide what you like.
What strength e-liquid should I buy?
The heavier a smoker you are, the stronger the e-liquid you should start with. But do remember that nicotine strength isn't the whole story. For example, some vapers vape more than others and choose to use lower strength e-liquid. Stronger liquids cause a more intense "throat hit", so do bear that in mind when making your first purchase.
Vapers self-titrate their nicotine intake. In other words, it's as if there's a thermostat which nicotine users have. As soon as they have enough, it switches off. So, if you want to vape less, use a stronger e-liquid, if you find you're getting too much nicotine from the amount you like to vape, move to a less strong liquid.
Can I save money vaping vs smoking cigarettes?
Yes, absolutely. Although, how much you will save depends on a few factors:
How much cigarettes or tobacco costs where you live.
The amount you spend on your devices, accessories and juices.
How often you choose to vape.
With a good setup you should be able to save considerable amounts of money vs buying and smoking cigarettes!
What should I look for when choosing a vaping device?
There is a huge range of vaping devices available and they come in all shapes and sizes. When choosing your first device you will be making your choice based on aesthetics and price/performance and it's hard to give generic advice on this. We suggest coming into the vape shop and letting us set you up with the products that are right for you. Take a look at our reviews / testimonials here on our website, Google or Facebook! Many of our customers will tell you the same thing, we are super friendly, knowledgeable, and we listen!
We want vaping to be a pleasurable experience for you. We are experts in our field so we will listen to your needs and make suggestions based off those needs. And again, we will never sell you products, juices or things you don't need.
How can I get the best tobacco-like flavor?
There are some very good tobacco flavors out there, but none of them are identical to smoking. Remember that vaping is fundamentally not smoking, and much of the flavor and sensation from smoking comes from the very fact that it is smoke which is being inhaled.  Most vapers find that the absence of smoke is actually a big plus point, and that they transition quickly away from wanting a smoke-like flavor. Also, after being smoke-free for a while, the sense of smell becomes far more sensitive, and many vapers find the world of non-tobacco flavored e-liquids to be a real pleasure in and of itself.
Are there any companies or brands that I should avoid?
Many of us who vape, are of the mindset that we would rather buy our e-cigs from non-tobacco companies, even if the tobacco companies were to develop 2nd/3rd generation devices that they use. Simply put, many of us just don't trust Big Tobacco companies. After all, they've been killing us for years and used to pretend that smoking cigarettes wasn't harmful. The culture has changed and the vape community is a strong / loving family of sorts. We choose to buy from trusted vape brands and e-juice companies that have a strong and lasting reputation in the community. Big Tobacco fought this new (and what some consider to be) much healthier alternative to smoking cigarettes for years. So we don't put much trust in them or the products they sell. This is our opinion, however, you are always free to make up your own mind.
Can I quit smoking by vaping?
It is impossible to say whether YOU can quit smoking by vaping. The only thing we can say with certainty is that there are many people who have been known to have quit smoking by substituting vaping. Whether you will be one of those people depends on a few factors, such as how motivated you are, how much effort you make finding a device that works for you, and how much you find you enjoy vaping to begin with. The only way to find out is to try! We believe that vaping offers a unique opportunity for smokers to transition away from smoking and that the products are improving all the time. More smokers are finding the right devices for them.
Vapers often carry extra batteries around in their pocket, purse, or bag without a battery case.
This is a very dangerous activity. The batteries used in vape devices are extremely powerful and if they contact metal objects, they are likely to short out and violently explode. This is easily avoided by simply being mindful of where your batteries are at all times. They are safe inside your device, they are safe on the charger and they are safe in appropriate battery cases. Your batteries should only be in one of these places at any given time.
Vapers often have batteries with cracks and rips in the shrink wrap.
It is important to be aware of the condition of your battery wraps. They are the insulators that keep the positive and negative contacts on the battery safely separated. They are simple shrink wrap tubes, precut to fit your vape batteries, but they are integral to their safe function. We can check and rewrap any questionable batteries in shop.
Vapers will sometimes use different batteries in a multiple battery device.
This particular activity is prevalent and also very dangerous. With multiple battery devices, it is an absolute necessity that one uses a married set of the same batteries. The devices require equal amounts of electrical load on all of the individual batteries in the device at the time. It is obvious that if the batteries are not the same, those batteries will certainly not be handling identical electrical loads and thus that is a dangerous proposition. Moreover, most people are not aware of the danger of using un-married sets of batteries. Married batteries have always been charged and discharged together, it is recommended to buy them together so increase the likelihood that they are also from the same production batch of batteries. By using married sets, you can more easily assure that your batteries are always used to experiencing identical electrical loads and also that they will handle identical electrical loads while in a device.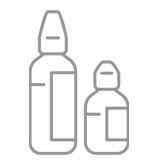 VAPE E-JUICE
We carry a complete line of E-Juices from the best brands.  Any flavor you want, we're sure to have.  If we don't, we will get it for you at no additional cost.  Visit our store and check out our new digital juice menu and full, sit-down bar.