COMPLETE VAPE KITS GIVE YOU EVERYTHING
YOU NEED TO START VAPING IMMEDIATELY!
We carry all the top brands to get you vaping immediately. Simply open the box, add your favorite juice (juice sold separately) and let your vaping experience begin. Here are just a few of the kits we carry. Be sure to visit our store as we get new products weekly and don't always have time to update the website 🙂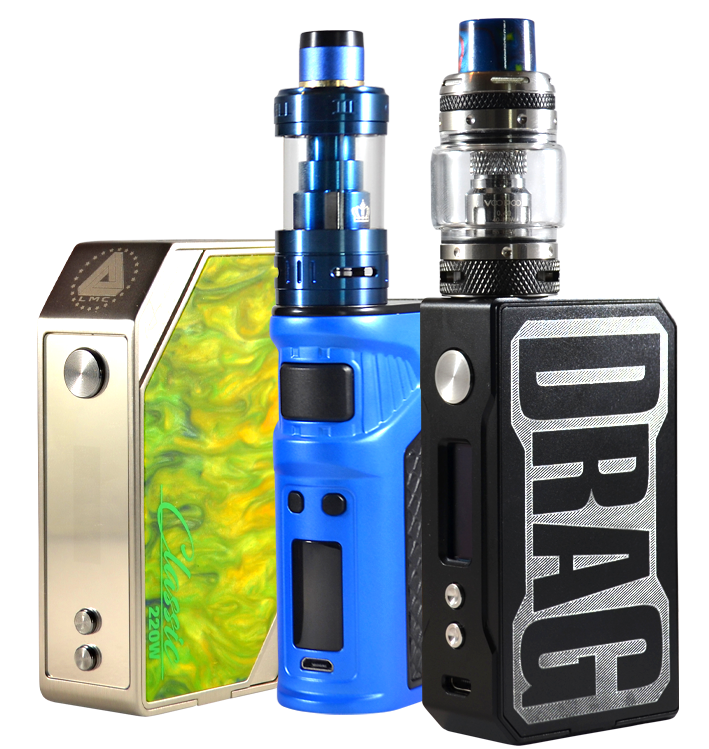 What does a complete vape kit include?
Most kits include pretty much everything, besides your e-juice.  With hundreds of E-juice flavors in stock at the vape loft, all you need to do is stop in, pick a kit, grab some juice and your ready to start vaping!  To start vaping proper, you will need:
A vape pen or vaping mod (a mod is simply a vaping device)
A clearomizer (the transparent tank that sits on top of the vape mod. It's where you put the e-liquid and it contains the atomizer which is what heats the e-liquid)
A drip tip (the mouthpiece)
A battery
A charger
E-liquid
Unless you purchase one of our complete vape starter kits, these things are sold separately. Due to the sheer volume of different batteries, atomizers, and vape mods, it is advisable to buy a starter kit. If you buy the components separately you will need to ensure that they are designed to work together. It is actually fairly complicated and will require a lot of research, but should you wish to build your own, we are here to help answer any questions you might have!
A vaping starter kit is easier, cheaper, and designed to provide a vaping experience that is satisfying for beginners.  To start vaping, the first thing you need to decide is if you want a vape pen or a 'box mod'. A box mod is a box shaped vaping device. If you plan on vaping for long periods each day then a box mod will provide a better experience. Box mods have bigger batteries and can be used with bigger tanks, so you won't need to recharge or refill throughout the day. The other reason a box mod would be a better choice is if you are getting into vaping to 'cloud chase'.
Cloud chasing is all about creating massive vapor clouds.
A beginner box mod is usually considered to be a box mod with wattage between 20W and 50W. When looking at box mod starter kits be aware that most do not include an atomizer tank, which is the part that holds the e-juice and heats the liquid, you will need to buy this separately.